Clan of Henry McOrmond
James, George, William, Mary Agnes and Henry - Page 1 of 3

James McOrmond was Henry & Maria's firstborn son, 19 January 1867 in Ayer, Middlesex, Massachusetts. He is recorded as the first American born McOrmond from James' branch of the family- re: James McOrmond b: 1819. He has no living descendants.
His birth was just prior to Ayer, MA completing its incorporation as a town, from Groton. He began working at the age of 13 years old as an Operator in a Cotton Mill. And according to the 1880 Census, James could read and write.

By mid-1890's James moved with his family to Bridgeport, CT. He married Jennie N Rothe in 1892, daughter of David Rothe and Nancy Madigan. She was born April 1871 in New Milford, Litchfield, Connecticut, father born in Bohemia, and mother born in England.
(A little about James' son: The only child born to James and Jennie was David Henry McOrmond, born 10 June 1894, Bridgeport, Fairfield, Connecticut; David was later a Veteran of WWI (a memorial with him is located in Webster Town Hall, MA) - made a living as a plumber, and married twice. 1st time to Rose Dwyer, just before he went to Europe in WW I. (They had a a child and lost him shortly after birth) Rose died, in 1940. Later, David married Alice Hughes. David died 26 November 1955, Webster, Worcester, Massachusetts. Alice lived to be 97!)
I recently met the man who was an apprentice to David, back when. He remembered David as being a "short guy with a raspy voice - a good plumber.".
Anyway, by 1900, James had his own business as a ferriar. According to an article in the New York Times, he lost it in a fire in April 1900 - he obviously rebuilt, by 1901..
Although it is known James married Jennie in 1892, in New York City, specifics on James & Jennie's divorce is not currently known. However, these documents should be procured soon. Divorces were quite uncommon, back then. Jennie M. McOrmond was later incorrectly recorded in 1910 U.S. Census as "Widowed," for 1 year and listed with profession of "Stitcher in a Corsette Shop." She eventually remarried to a man named James Alexander. This info conflicts with her DOD records, as we shall learn in a moment...
In 1910, James resided at 615 Main Street; James is listed with profession of Toolmaker [just like his dad.]. He resided at 72 Fulton Street, live with his son and is recorded in the Census then, with the Occupation of Blacksmith.
Jennie died 19 June 1912 in Bridgeport, Fairfield, Connecticut. David was the Informant.
Interment Card Information - Mountain Grove Cemetery Bridgeport, CT

Name: Mc Armond, Jennie
Interment No.: 11193
Section No.: Single
Burial: June 1912, Bridgeport, Fairfield, Connecticut
Medical Information: Primary cause of death recorded as Mercurial Poisoning with Secondary or contributory cause of death as Acute Nephritis.
Occupation: 1906, Corset Maker
James married Mary Elizabeth Boardman on 31 August 1912 in Bridgeport, Fairfield, Connecticut, daughter of Alphonse Boardman and Zoe Massicote. She was born 14 March 1863 in Champlain, Quebec, Canada and was widowed by Charles Bundock. Folks living today remember them both!
| | |
| --- | --- |
| William & James McOrmond | Mary (ne Boardman) Bundock & James McOrmond |
By 1920, James McOrmond resided at 336 Newfield Avenue; he is listed with profession of working (once again) as a Blacksmith. It is known he kept close touch with his brothers and sisters throughout his life from the correspondences saved. Mary became accepted and loved within the family. According to the 1920 Census, her mother tongue was French - however she could speak English. Mary's father and mother were born in Canada, and their native tongue was French, also.
Mary Immigrated to the U.S. from Canada in 1866 and was Naturalized in 1913 with her parents, Alphonse and Zoe Boudion - main source is a descendant of hers, Carol Weisbrot. She died 02 March 1942, at home, 243 Eagle Street, Bridgeport, CT - after having lived in the Bridgeport community for 42 years. (Note: She and James McOrmond owned multiple properties, particularly in Milford, CT - Highland Park Area). TGP has copies of all their deeds.
Mary lived 78 years, 11 months, 18 days, and was at the time of her death, a housewife - living at home. She was buried in St. Michael's Cemetery, Stratford, Fairfield, CT in a single gravesite, easily visible from the main road that leads out.

Burial: 05 March 1942, Stratford, Fairfield, Connecticut - St. Michael's Cemetery..

After Mary's death, James moved to Webster, MA and spent retirement with his son, David. James died 20 October 1954 in Worcester, Massachusetts and was buried in Webster.
The writing on the stone is deceptive: David was James' only child.

He married Rose Dwyer, who died in 1940. David later married Alice Hughes. Note James' name is in the middle there, yet it was Alice that was married to James.

Burial: 23 October 1954, Dudley, Worcester, Massachusetts. David is buried about 10 feet to the right of this stone, beside yet, another marker.

George McOrmond was born most likely, on 12 September 1868 in Massachusetts. One date of record, which is usually taken from the Family Bible Record states: "1869."- Several attempts to locate a physical record, i.e., Massachusetts State Archives, have had zero results.
The ambiguity of this bible birth/death date and that which is upon the gravestone (thus: 1869 vs. 1873) was best resolved from gleaning as many other records as possible - and there weren't many. From there, the best hoped for was an educated guess.

Of certainty, this much is known. George's recorded date of death (DOD) is 11 December 1887 - that being the last date his family saw him alive. He was found to have been shot by Yellow Mill Pond, Bridgeport, CT on 08 May 1887. (More notes below)

1870 United States Federal Census Source Listing for George McOrmond
- Enumeration Date: 02 June, 1870. In 1870 age at last birthday of George was 2 and was born in Massachusetts - with no notable information on "Condition of Health" having been recorded.

1880 United States Federal Census Source Listing for George McOrmond
- Enumeration Date: 22 June, 1880 In 1880, the age at last birthday 11 and he attended school. Again the record mentions he was born in MA.

Those records, along with the information found on the family bible, the 1869 date would certainly be more accurate. But it isn't definitive. No DOB Cert has been found, as yet. And George was never married - never had children. The 1870 U.S. Census sheds a much clearer light.
George would have moved with the rest of his family from Clinton, MA to Rochester, NY around 1871 - back to Clinton by 1878 - and eventually settling in Bridgeport, CT by the mid 1880's. George died in December of 1892 - reasons are still unknown.

He is buried beside his mother and father in Park Cemetery. His first place of burial was later removed to the currently known gravesite, shortly after his mother's (Maria) death. Apparently, the family needed more money to move him from the 'poor' section the year before. The flat headstone is located at the front center of the image on the left and was taken in November of 2000.
William H. McOrmond (a.k.a. "Mac", "Will") was born May 1870 in Clinton, Worcester, Massachusetts. He married Elsie W. Hotaling at some time between 1892-1895 (likely 1892), daughter of Steven Hotaling and Ida Flansburg. The records in Coxsackie were not well kept in those days - thus, an original record is not obtainable. She was born 31 October 1875 in Coxsackie, Greene, New York, Many folks in Will's clan spelled their name "MacOrmond" - The "Mac" was distinction from "Mc" in those days as an indication of being Protestant. His clan lives today, through his his daughter Pearl, in and around the Albany& Schenectady areas of New York State.
Will moved with his family to Bridgeport, CT, yet stayed there for only a short time. He was married and living in Coxsackie, NY by the early 1890's. All of his and Elsie's children were born there - 2 of them (Harold & Glenn) died while in infancy.

By 1900, William McOrmond resided at Reed Street, Coxsackie, New York; he was recorded by the U.S. Census as married, and had been married for 8 years (1892 date). Will is also listed with the Occupation of Brass (Finisher). The foundry where he worked was razed during 2002. The TGP Library has images of it, just before its demise - intact, as it was back in Will's day.
By 1910, Will had moved to Albany and remained there for a short time. The family lost their youngest, Myrtle, to pneumonia in 1913. In 1920, he had again moved, this time to 1251 State Street, Schenectady, NY. He remained in the trade as a Brass Finisher, having worked for ALCo. (American Locomotive Company). Much of his work coincided with that of his daughter, Pearl, who worked for General Electric. They remained quite close. (Special thanks to Marion Rode for images and tremendous insights, here.)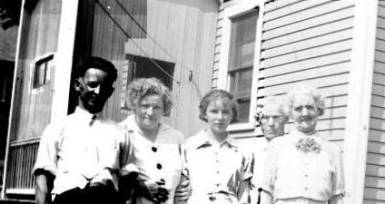 L-R: Ed Voegtling (Will's Son-in-law), Clara (Will's sister) Pearl, Will & Elsie.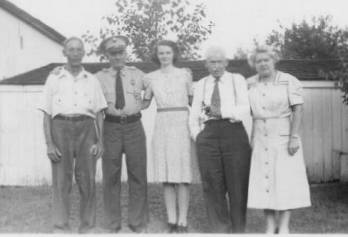 L-R: Henry Hillsinger (Will's Brother-in-law), Egbert Jr. (Will's nephew) & his wife Pearl, Will & (daughter) Pearl.
A little about Elsie...
There are multiple dates which conflict with DOB for Elsie:

DOB Recorded as 31 October 1875 from Glenville Vital Records
- Town Clerk (Schenectady County), New York (this is the one used)
DOB Recorded as 1873 - Clinton, Massachusetts - Town Hall Records
DOB Recorded as 1873 - Gravestone, Riverside Cemetery, Coxsackie, NY
DOB Recorded as 1876 - 1880 United States Census

With much thanks to Marion (again) & Carl Voegtling (Elsie's grandson) for the images...
Children of WILLIAM MCORMOND and ELSIE HOTALING are:
i. HAROLD S MCORMOND, b. 13 December 1894, Coxsackie, Greene, New York; d. 19 January 1896, Coxsackie, Greene, New York.
ii. PEARL J MCORMOND, b. 1895, New York; d. 1957, Glenville, Schenectady, New York.
iii. GLENN A MCORMOND, b. 03 June 1897, Coxsackie, Greene, New York; d. 10 April 1898, Coxsackie, Greene, New York.
iv. MYRTLE MCORMOND, b. 14 May 1900, Coxsackie, Greene, New York; d. 1913, Albany, New York.
In 1900, Myrtle was recorded as "Baby" since she hadn't been named at the time Census was taken.


William died 03 January 1953 in Albany, New York. Elsie died 18 July 1941 in Glenville, Schenectady, New York. Both are buried at Riverside Cemetery, Coxsackie, Greene, New York. Their children are with them.
Mary Agnes (Mamie) McOrmond was born 17 March 1872 in Rochester, Monroe, New York. "Mamie" was the name she was affectionately called by folks who knew her, according to Marion Rode, her granddaughter. She was loved by any and all who knew her.

Mamie was Henry and Maria's firstborn daughter and remained with the family until her marriage to Daniel Morse Wheeler on 11 April 1894 - when she settled in Bridgewater, CT.

David was the son of Ransom B. Wheeler and Sarah Bristol, born 12 April 1847. He died around 1895 - no Cert procured, as yet. Before his death they had a daughter, Sara Irene Wheeler ("Irene"), on 16 February 1895, Bridgewater, Litchfield, CT; d. 05 May 1982, Bridgeport, Fairfield, Connecticut. For the record, it was Mamie's daughter, Irene, that held many of the heirlooms we have today, i.e., the bible images, photographs, etc…Eventually they were passed along to 'cuz Marion Rode, who of course, has now shared them with all of us!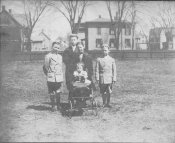 In one of earliest known McOrmond Family images:
Daniel & Mamie (center) - Sarah Irene in carriage
The two boys (left & right) are unknown (Edward & Frank?).

A little about Daniel Wheeler...
Daniel Morse Wheeler, born eighth of eleven children, is a descendant of the Wheeler family of England. His ancestor Thomas Wheeler and Anne Halsey were married as early as 05 May 1613. They may have come to America with the Rev. John Jones' Company in the ship Defiance, which landed in New England 03 October 1635, for, with his wife, children, and most probably some grandchildren, he was in Concord as early as 17 April 1636-7, when he was made foreman there. Of his life in Concord, he became one of those who removed with him to Fairfield in 1644, settling at Pequonnock, on Uncoway Brook, where his home lot of 2 1/2 acres is recorded, Jan., 1649. This was at Black Rock. [Upon his death, he mentions a series of his children, thereby, proving the course for Daniel's ancestry.]
- Wheeler Genealogy, bk. 1, July 1994 - Pgs. 200-242
Of note: Daniel was also related to the clan who owned Wheeler and Wilson Sewing Machines (later purchased by Singer)
After Daniel's death Mamie returned returned to Bridgeport (now with Irene) and lived for a time on Lafayette Street - a trivial fact, it would seem at first - but, upon closer scrutiny it was discovered that the place was directly across the street from her 'cuz Hariet McOrmond! The families were most likely closer than previously thought. Sheer coincidence of this in a city of 100,000+ people is unlikely.
By 1900 Mamie moved to 100 Hicks Street according to the U.S.Census, where she was a head of household. The house is no longer there, today - and all that remains is a deserted factory, built on the site of where the house once was. But she was there, with Arthur and his fiancée Cora, Henry (A.), etc.
Mamie married Egbert Newton Hallock on 01 April 1905, in Bridgeport, Fairfield, Connecticut, son of Amos Hallock, Jr. He was born 07 December 1849 in Washington, Litchfield, Connecticut.

Certificate of Marriage

"Be it known that on the first day of April in the year of our Lord Egbert N Hallock and Mary A. Wheeler were by me United in Marriage in accordance with the Laws of that State of Connecticut [by] Rev.B.D.Remington[Berean Church, Bridgeport, CT] Witnesses: Nathaniel L. Butler, Clara McOrmond

A little about Mary McOrmond and Egbert Hallock's Clan:
Marriage: 01 April 1905, Bridgeport, Fairfield, Connecticut

Children of MARY MCORMOND and EGBERT HALLOCK are:
i. EGBERT NEWTON JR. HALLOCK, b. 05 September 1906, Stratford, Fairfield, Connecticut; d. 02 March 1989, Waterbury, New Haven, Connecticut.
ii. ARTHUR WALTER HALLOCK, b. 30 November 1908, Bridgeport, Fairfield, Connecticut; d. March 1953.
She was 34 years old and lived at 1555 Pembroke at the time of (first son) Egbert's birth, 05 September 1906. The Attending Physician was Robert Louder, MD - 310 Fairfield Ave. Their son, Egbert, married Pearl Amelia Capewell and had two daughters of her own: Marion Elizabeth (the source of many of these images!) and Clara Susan.
Arthur married Florence Elizabeth Snyder and had one daughter, Lois.
Mamie and Egbert


Marion, Mamie,
and Henry Hillsinger

(Standing) Pearl Hallock
Lois, Mamie, Clara and Marion

Lois, Mamie, Clara and Marion

Mamie died 29 December 1940 in Waterbury, New Haven, Connecticut.
A last note on Mary Agnes McOrmond:

Burial: 29 December 1940, Lakeview Cemetery, Bridgeport, Fairfield, Connecticut
- alongside Hallock Clan
Henry A. McOrmond was born 31 December 1874 in Rochester, Monroe, New York. He had never married, nor had children. Conflicting information remains on his birth date: Family Bible records DOB as 05 December 1874 while his DOD Cert records it as 31 December 1874. Rochester, NY - and you know New York has no record of it, at all. Henry moved around while he was young, from Rochester, NY to Clinton, MA and finally settling in Bridgeport, CT.
By 1900, Henry resided at 100 Hicks Street, living with his older sister Mamie. He is recorded with the trade of Machinist. In 1910, Henry A. McOrmond resided at 767 Main Street; Bridgeport, CT where he was a lodger. He is listed with a trade of Machinist and worked for a buckle shop.
In 1920, Henry resided at 336 Newfield Avenue with his brother, James, and is listed with the trade of work of Foreman. He worked at Hatheway Manufacturing Co.
Henry owned several properties in Bridgeport, although he stayed with various family members, during his life. He also has the only Probate Record in Bridgeport, CT. When he died, all of these were left to his sister Clara. TGP has procured several copies of property records of places he owned, as well as photos of his original probate records. He was a member and former Commodore of the Miamogue Yacht Club, during the early 1920's. When he died, he was known well and respected amongst his peers (as per Bridgeport Telegram newspaper clipping, ca., 1925).

Henry died 11 March 1925 in Shelton, Fairfield, Connecticut. Death at Laurel Heights Sanitarium, Shelton, Fairfield, Connecticut. He had Tuberculosis. He was buried in Lakeview Cemetery, Bridgeport, CT. The gravesite was found via an old marker (shown below) buried in ground, in the autumn of 2001 No gravestone on Henry's gravesite - only this marker (#41).
Top