Hi, y'all! Yeah, I know, I know... I seem to have done the "fade-out" number. But you know? I 've never really stopped doing our family history. And keeping a low profile.
Let's see what's up, shall we?


Ping and Me - Beijing, September 2008
Patiently Waiting...
Yes, I recently got married. . .and yes, in China. I would love to prattle on about the events over the past year - but this time y'all get a break. And no, there isn't enough space on any website to express my sentiments in trying to get a little cooperation with USCIS. There's nothing like meeting someone in your homeland, dating them, and having the "beaurocractic powers that be" decide the relationship is not "bona fide." Especially, after all the time and costs related to proving it is.
And of course, there's approval of paperwork...we had that.
So, I went back to China to make things "bona fide." So, that's, that!
Ping and I married 02 September 2008, in Shenyang China. I know got it right this time, folks. . .she's a wonderful woman. And I should also mention Sisi, too. A great kid, with a premising future. A picture of us all is here
Wo hen Mang!
"Wo hen mang." It's the Chinese (pinyin) translation for "I'm very busy!" - and yes, it's been just that.
So What's Up? Let me tell you. . .
Uhhh, You Tube. . .
In the never-ending desire to share our McOrmond history, I now give you "You Tube." I discovered this website by accident a while back. More recently, I thought it would be a novel way to share some of our history through the places I've been. Having been to scores of cities, towns, cemeteries, houses, etc., I thought this would be a neat way for others to see items of interest, too.
I'm not much of a narrator, even though I've made 100's of little clips like this. So, uhh, if you think you can get through uhh, the pauses while my thoughts are uhh, collected, you may want to check it out. And. . .if this looks like a good idea, let me know. I'll post more and you can enjoy a visit to someplace you may not otherwise ever get to see.
Newspaper News...
I have accumulated several hundred historical newspaper clippings. Yes, there is so much more to our history than simply birth marriage and death dates. Well, on the surface these snippets didn't change the world, but they did change many lives. Take this clip, for example...it's from the Worcester Spy, 16 November 1881.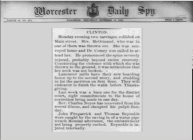 And if it's a curiosity for you, click on the image below for the clip from the following day...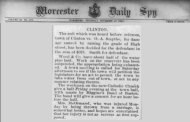 A little Surprise and a big one, too...
Here's a little surprise for the folks in Canada. It's a clip of the Obituary for Lucinda Jane McOrmond. Now, if I'm correct, she had 4 children: John Thomas (b: 1887), Albert Edward (b:1891), Charles (1893), Roy (1895)... One premise of genealogy is not to rattle cages, but to learn and appreciate...

That having been said, let's take a look at this...

The date of 5 years old would place George's birth around 1892, and...a 5th child born to John James and Lucinda McOrmond. . . Yes, between Albert and Charles. That was quite a surprise to me, and I'm sure it would be to many of you. . .
Collateral Clans...
I've done quite a bit of research on many collateral lines, particularly Dearsa's (Casselman) Clan. Even though she is gone, there is no good enough reason to not. The work I've accomplished to one point had been slightly incomplete. So, I took a trip a trip to Jamestown, New York, where her clan had been for several generations.
Now, I didn't know any of the people there, but decided to meander around Lake View Cemetery for a starting point. As always, there a lot to learn. And it was a lot of fun to have my sister, Donna with me - we had a great time sharing some great memories of our own.
Donna at the Casselman Plot

Hawley Casselman Marker
(and yes, Fifi, too...)
Hubbell Clans
There are over 100 of us that share a lineage with the Hubbell Family. This link is found through Evelyn Marie Hubbell, the wife of Alexander Henry McOrmond, my grandfather. Evelyn had a brother named George. . . and, through his daughter, Mary (and her husband, Bill) I've learned a lot more about the Hubbell's. From that branch, I've learned a lot about my dad's cousins and their children.
And since, I've compiled a history going back to the earliest days of settlement, here in the northeast.
Richard Hubbell arrived here from England around 1640. Since then, scores of Hubbell's have been documented throughout the course of U.S. history. I wrote a little about the Hubbell Shoe Store sign last time. Since then, I've compiled quite a bit of history, including land records, wills and other neat things. Most recently, is the grave marker for Richard Hubbell, who was born in 1626 (or, 1627 - depending on the calendar used).
These 2 images were taken at Stratfield Cemetery, Bridgeport, CT.
| | | |
| --- | --- | --- |
| | | |
| Hubbell Family Marker | | Richard Hubbell Marker |
There are innumerous resources and histories written about the Hubbell Clans. And genealogies that date back hundreds and hundreds of years. So, it's been great fun, for sure! For those interested, contact me and I can get you our respective pedigree.
Staying Tuned. . .
I haven't been sleeping....honest! But like so many of y'all, it's been very busy, indeed. Well...I feel bad I haven't had as much time as I would have liked: to update and post here like days gone by. Please know, I did have what I felt were legitimate reasons (not excuses) for what would otherwise seem a lackadaisical approach for this site.
So... what I'm asking is to hang in there. There is more to come. A lot more... At which point I will explain some of those aforementioned reasons.
Media. . .
If there's anything you'd like to have passed along - or - have an historical contribution, please let me know. As always, you can email by clicking here.
Wrapping it all up. . .
Well, I guess, that's, that. For old news, click here or for older news, click here
Enjoy your family time, as there is so much joy to be found with them. Take a moment and a few cents to call someone and tell them you're thinking of them. Or even better, that you love them! Spend quality time with clan and enjoy our family!

Stay well!
Blessings from above and blue skies yours!

...the 'cuz