The birds are singing. . .a definitive indication of summer on the way here – a time for "making time" for some new stuff on the website. A pologies, as this is LONG overdue. Nonetheless, I hope all is well with you, as you read this – I wish to thank you for your time and hope you derive some pleasure, as well as learning from the prattle, herein. . .
So, yes, "ba-ba-de, ba-ba-de, ba-ba . . ." is (in our joking sort of way) Chinese for: "father's, father's, father..." – or, grandfather, if you like. And we (Ping and myself) have a tendency to refer to the genealogy stuff with that name, accordingly. We have enjoyed the past couple of years very much, now that Ping is "home." She has just begun a business venture of her own, as "Lovely Like A Rose" – a Spa in Milford, CT – and she's doing well. We wait for Sisi, which will take a little more time – and hopefully that time waiting will pass quickly.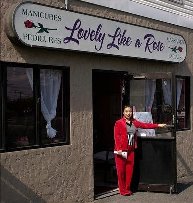 Moving along you'll see quite a few things accomplished, despite my seeming lack of interaction (the "business" of things, you see...). I apologize for not having the time I once did. But I do move forward, albeit sometimes at a snail's pace, to explore a little more about our clans. I believe there is a great spiritual reward in discovering who we are and were – and to understand it well enough to see how it can fit into our respective futures.
Grandfathers
For those of you descended from Arthur Richard McOrmond, I give you another neat little item discovered just a short time ago. At this point, we have much information about Arthur. And it's because of that, I continue to poke around, never certain of what I'll find – ever elated when I do!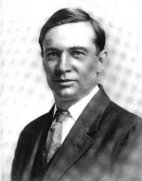 This image of Arthur was taken ca. 1912 and taken from Legislative History and Souvenir of Connecticut By William Harrison Taylor. Quite a distinguished looking gentleman, if my biased-self doesn't mind saying so. I think most would agree. I have included some links below of several snippets of newspaper clippings I've also gotten hold of. By now, as you would guess, I have a ton of them. The fact that he was in the news a lot (particularly, locally) is a good indication that he was a respected man in the community. Many articles state that he was an honest man of good moral value, with a great deal of integrity. I found that to be warming.
| | | | | | | |
| --- | --- | --- | --- | --- | --- | --- |
| Date | Article Title | | | Abstract | | Link |
| | | | | | | |
| 1/11/1909 | Passed Bar Examinations | | | The State Bar Examining Committee has announced the names of those who passed successful examinations for admission to the bar, as follows: [including] ArthurMcOrmond of Ansonia. | | |
| | | | | | | |
| 11/10/1910 | Representatives Elected | | | Representatives Elected: [including]Ansonia: Arthur McOrmond (Republican) and Milton C. Isbell (Republican) (gain). . . | | |
| | | | | | | |
| 5/25/1911 | Mr. McOrmond Disgusted | | | Representative McOrmond, of Ansonia threw a scare into those members of the house who wanted to do business Wednesday afternoon when he moved for adjournment of the second session of the day. Request after request to table matters disgusted Mr. McOrmond and he expressed in effect, his opinion that if no one wanted to do business that it was time to shut up shop and go home. | | |
| | | | | | | |
| 6/9/1911 | Bridgeport's Greed Hurts Local Hospital | | | Hartford, June 9 – It was hard luck for the McOrmond Amendment increasing the appropriation for the Griffin Hospital of Derby, from the $3000 a year reported by the appropriation committee, to $4000 a year, to be practically coupled with the increase for St. Vincent's Hospital, of Bridgeport from the $7500 a year reported by the committee, to $100, in the consideration of the house. That is real reason for rejection of Mr. McOrmond's amendment yesterday. Had it stood a lone, there is little reason to suppose that it would have had any difficulty in the house. . . . | | |
| | | | | | | |
| 2/24/1916 | Ansonia Outlook Bright | | | The strikers stopped frequently to cheer prominent citizens, once giving a hearty ovation to Prosecuting Attorney McOrmond who issued "warrants against ... | | |
| | | | | | | |
| 5/23/1916 | Another Ansonia Striker Arrested | | | Prosecutor A. R. McOrmond today issued a warning against any attempts at intimidation on the part of the strikers. He called attention to the penalty for such acts and indicated that prosecutions for intimidation would be pushed vigorously. | | |
| | | | | | | |
| 12/28/1925 | News of death | | | This article gives an overview of Arthur's life, with many details not found elsewhere. Although the location of birth is inaccurate, the BIOS appears to be on target (Arthur was born Rochester, NY, not Schenectady, NY). | | |
More on Arthur (from TGP Book) can be found by clicking here.
McOrmond House
01 May 2010 – It was "May Day" for nations all over the world – but a special holiday in its own right, in Simsbury, Connecticut. For on this day, was the dedication of the McOrmond House at Westminster School. Below is an excerpt from the Westminster School Website:
McOrmond House Dedicated
The descendants of Raymond Richards McOrmond, who served as headmaster of Westminster School from 1923 to 1936, visited the Hill May 1 for the dedication of a faculty home as the McOrmond House. Joined by several members of the Class of 1966 and Dr. Roger Moore '35, family members gathered in Keyes study, which had served as Headmaster McOrmond's office nearly a century ago, then attended the dedication and a luncheon in their honor. The event took place 74 years to the day after Headmaster McOrmond and his wife, Alice, left Westminster.
At the dedication, Headmaster Graham Cole told everyone that because he is acutely conscious of history and legacy, he thought a faculty home should be named for Headmaster McOrmond. He talked about Headmaster McOrmond's lifelong ambition to be headmaster of a school and reviewed some of the highlights of the McOrmond years, including the construction of Memorial Hall and the hiring of legendary faculty members Ronald J. Michelini, John R. Gow and E. Floyd Lounsbury. He added that Headmaster McOrmond, who led Westminster during the Roaring 20s and the early years of the Great Depression, had a reputation for instilling discipline and was widely respected and admired by students. "I am very proud that we could do this and have a marker of his legacy," concluded Headmaster Cole.
In other remarks, Dr. Roger Moore '35 recalled his friendship with Headmaster McOrmond's son, Raymond McOrmond, Jr.'34. And on behalf of the McOrmond family, Jody Vaill '66, Headmaster McOrmond's grandson, thanked everyone who returned to the Hill for the celebration and Westminster for honoring his grandparents. . . .
More on the dedication can be found here.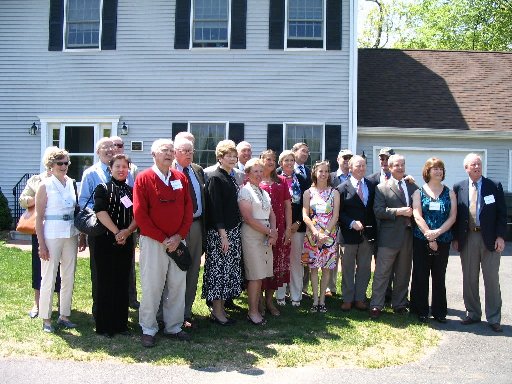 Grand Aunts
Another neat little event I was honored with, comes from the Hubbell Clan. 'Cuzzes Mary & Bill are avid family historians – with Mary, having published a truly outstanding book on her clan. Yes, it is incredible! (...best I've ever seen - and I've seen a lot!) Last year, a lot of folks converged on Ocean City, New Jersey to share a special time, as it was MEG (Edna) Hubbell's 90th Birthday.
So, yes, I was amazed at the book Mary had written! A complete history of so many lives to pass along to future generations. Originally , it was compiled for her mom, MEG. But i was honored to get a copy, as well. Folks in the family created a DVD with a photographic chronology of very special moments in the family. We were quite proud to have been invited to this magical time – and, try as a I may, I will never be able to find the words of appreciation to folks and their warmth and hospitality!
What's Next
As time has allowed, I've been working on the next big project for TGP. The years of records have taken up quite a lot of disk space on hard drives over the course of time. It seems I will just about catch up, then fall behind. But then, do we ever really "catch up?"
I often wonder at where technology will go as I sift through the endless folders of images and documents relating to our histories and times. . . .and I wonder:
"What is the most practical way to save this stuff?" – "Will the format have some backwards compatibility in lieu of new formatting and structure?" – "How much is really garbage?"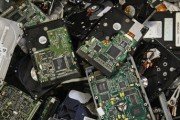 For many, aquiring so much in detail is passive. Yet, quite often when a search for someone begins, there is little to be found. That information is stored, while later on, another source or detail could be obtained – and added to the collection. In my case, that information stockpiled. While the first shards of someone's life events were quite nice in the beginning – they would become virtually insignificant as more detailed knowledge is found.
Especially when it comes to an index. Although the sourcing is critical in any endeavor, most folks don't care about a volume or page number – they just want to see the record! It's only through the through date digging, association with other relations, and correlation with other events when one can gain a truer interpretation of "fact." And a lot of that can be subjective. Most of the time we don't see things as they are (or were) - we see them as we are.
That all said:
We genealogy lovers are pack rats. Many of us, anyway. However, one must realize it's almost impossible to not be! Obtaining bits of information are essential in the foundation of any research. So, that where I'm at. . .what to relate. . .what to not. . .and can someone define for me the location of the "line of inconsequnce?"
I've wanted to publish a DVD with interviews and an overall story on our clans. I have so much already. But this concept will take a far greater effort than I can afford the time to do alone. Well, should any of you decide this is a good idea worth persuing, please let me know – I will collaborate, for sure. I certainly have enough gravesite videos! (another blip on this to come...)
Currently, I an report write using several software packages compatable with any Windows OS. However, having been in the business of database writing for the past 15+ years, it's a safe bet to assume whatever you see out there pales in comparison to what I have accomplshied on my own. No bragging, here. . . just fact. That's where the compulsion comes in. Generic software doesn't cut it, when it comes to the type of data crunching I believe is needed for our clans. Thus, it is my hope that another book – a far more comprehensive undertaking than previous endeavors - will be the outcome. The idea is to have something to hold in the hand. The aesthetic in holdng something in the hand, being the prevailing factor.
About that blip: Besides, I do a lousy "You Tube" presentation - lest any of y'all gagged that one down! ;-) ;-) ;-)
Details? None at present. Once the formatting is complete, I presume to believe the book will "make itself" based on all those little shards, as well as the stories, images and details. Quiet as I have been, I've gone back hundreds of years in my clan alone! I leave it to you, the eventual end-user, to decide on how much you wish to use.
I believe it will be decent – at least conceptually, that is the direction all of this is going. In the meantime, feel free to comment, inquire, or just say "hi…"
Wrapping it all up. . .
Well, I guess, that's, that. For old news, click here - for anything else, click here.
Enjoy your days, as there is so much joy to be found with family. Take a moment and maybe a few cents to call someone and tell them you're thinking of them.
...or even better, that you love them! Spend quality time with clan and enjoy our family!
Stay well!
Blessings from above and blue skies yours!

...the 'cuz